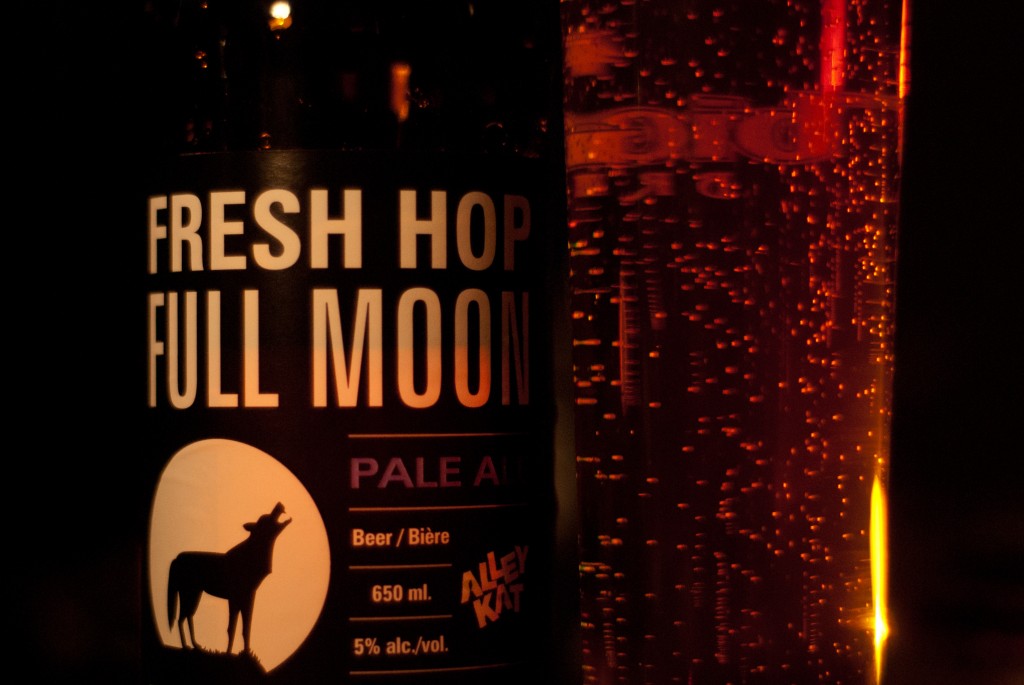 I haven't always been a big fan of Alley Kat brewery. There are definitely some positives. They're local, and try to source their ingredients locally as much as possible. They make a pretty good effort to keep waste to a minimum. They're also Edmonton's longest running Microbrewery, which is a pretty big deal. Another of our author's here (Blaine, for those paying attention) had a chance to hear Neil Herbst speak at a Beer Geek's Anonymous event and touched on it in this post. For my money, Alley Kat's offerings have always tasted a bit too much home brew and not quite enough craft brew.
I'm happy to report that my opinion is changing.
Alley Kat has started producing their Big Bottle series, which are limited runs released in 650mL bottles. The current offering is Fresh Hop Full Moon pale ale, which isn't to be confused with their Full Moon pale ale. The fresh hops make all the difference.
This ale pours with nice clarity and a good head. The hops are nicely present up front, beginning a bit piney but ending up with a bit of citrus. The flavour leans towards bitter, but not as much as in an IPA. In that sense it might be a nice gateway beer for those interested in exploring the hoppy side of beer.
I think the difference in this beer can be tied right back to the title. Freshness. The fresh hops lend flavour and depth, which make for a much more interesting beer.
I'll close this post up by telling you that I love this beer. I will gladly drink it again. In a limited edition sense. To combat that, I already have a few more bottles in the fridge.