Weihenstephaner. The worlds oldest brewery. It started as a monastery brewery of the benedictine monks, and thankfully for all of us, it's still brewing today as the Royal Bavarian State Brewery. I'll cut the history lesson short.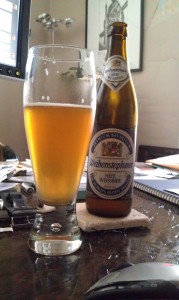 If you like weiss bier, or wheat beer, you owe it to yourself to pick some of this up. Their class, not mass approach results in a very refreshing beer. As you might expect, it pours golden and cloudy. What sets it apart from other weiss bier for me is the incredible balance. You can probably smell or taste citrus, banana, cloves, wheat and some yeast. I also pick up a bit of coriander, as you'll tasted in some other notable weiss bier. However, none of the others you'll have tasted will balance it nearly as well as Weihenstephaner.
I will certainly be drinking this again, rather than my typical Hoegaarden.
Thanks for Scott for both the history lesson and the introduction to this great beer!